sale apartment 3 rooms
Annemasse (74100)
Contactez-nous par téléphone
Affair Immobilier
- 100 route d'Annecy 74160 Collonges s/Saleve
Annonce >

sale

apartment

3

rooms

- 296 000

€

Localisation >

Annemasse (74100)

Référence >

1720
Phone. : 04 50 39 01 01
Les informations communiquées sont destinées à l'Agence immobilière éditrice de ce site. Vous bénéficiez d'un droit d'accès, de modification, de rectification et de suppression de vos données personnelles (Loi n°2004-575 du 21 juin 2004 pour la confiance dans l'économie numérique). Pour les exercer, adressez-vous à l'adresse de l'Editeur.
Description of the listing
3 rooms 3 rooms /
Annemasse
This apartment of 63,54 m² (about 683 ft²) has 3 rooms including 2 bedrooms, 1 bathroom and 1 toilet. It has a garage. It's located on the 2nd floor with a lift. Heating : collective gaz radiator.
Reference : 1720
* : Agency Fees data unavailable
Listing details - PDF
Diagnosis of energy performance
Real estate's adress
Location
Local information
Train station
Bus
Grocery store
Requiring restoration
Shopping
Cinema
Park
Higher education
Schools
Library
City hall
Post office
Pub
Department store
Pharmacy
Répartition de la population sur Annemasse
29 541 habitants
Répartition Hommes / Femmes

| Hommes | Femmes |
| --- | --- |
| 14213 | 15328 |
Répartition par âge

| 0-14 | 15-29 | 30-44 | 45-59 | 60-74 | 75+ |
| --- | --- | --- | --- | --- | --- |
| 5676 | 6293 | 6872 | 5285 | 3406 | 2009 |
3 111 Couples sans enfants
3 143 Couples avec enfants
1 488 Familles monoparentales
6 100 Célibataires
10 431 Mariés
2 558 Divorcés
8 071 Résidences principales avec au moins un parking
11 407 Ménages ayant au moins une voiture
6 071 Densité de population au km²
Infos logements sur Annemasse
15 600 logements
Répartition par type de logement

| | Résidence principale | Résidence secondaire | Logement vacant |
| --- | --- | --- | --- |
| Pourcentage | 91 | 2 | 6 |
| Total | 14210 | 323 | 1068 |

Répartition par type de bien

| | Appartement | Maison | Divers |
| --- | --- | --- | --- |
| Pourcentage | 91 | 7 | 0 |
| Total | 14336 | 1119 | 145 |

Nombre de pièces de la résidence principale

| | 1p | 2p | 3p | 4p | 5p + |
| --- | --- | --- | --- | --- | --- |
| Pourcentage | 10 | 19 | 32 | 23 | 13 |
| Total | 1556 | 2841 | 4652 | 3309 | 1851 |

Époque de construction

| | < 1949 | 1949-1974 | 1975-1989 | 1990-2004 |
| --- | --- | --- | --- | --- |
| Pourcentage | 8 | 46 | 26 | 14 |
| Total | 1189 | 6650 | 3695 | 2127 |

Surfaces

| | < 40 m² | 40 - 99 m² | > 100 m² |
| --- | --- | --- | --- |
| Pourcentage | 15 | 74 | 10 |
| Total | 2135 | 10589 | 1486 |

Répartition locataires - propriétaires

| | Locataires | Propriétaires | Autres |
| --- | --- | --- | --- |
| Pourcentage | 54 | 42 | 2 |
| Total | 7793 | 6079 | 338 |

Source INSEE 2007

Revenus sur Annemasse

Revenu net moyen par foyer fiscal et par an : 22 593 €

Salaire net horaire moyen

| Moyenne | Cadres | Employés | Ouvriers qualifiés | Ouvriers non qualifiés |
| --- | --- | --- | --- | --- |
| 11 | 21 | 9 | 10 | 8 |

Source INSEE 2008

Informations sur les Taxes de Annemasse

Évolution des différentes taxes

| Taxes | Taxe d'habitation | Taxe professionnelle | Taxe foncière sur les propriétés bâties | Taxe foncière sur les propriétés non bâties |
| --- | --- | --- | --- | --- |
| 2006 | 12,87 | 15,64 | 14,08 | 32,91 |
| 2007 | 13,06 | 15,87 | 14,29 | 33,53 |
| 2008 | 13,32 | 16,22 | 14,56 | 30,18 |
| 2009 | 13,99 | 15,84 | 16,74 | 31,57 |

Source www.taxe.com
Similar ads in sale apartment de 3 rooms to Annemasse (74100) and near
Sale apartment Cranves Sales 325 500 €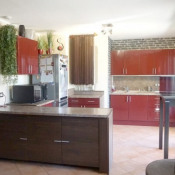 +
Sale apartment Annemasse 135 000 €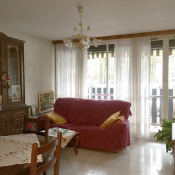 +
Sale apartment Ville La Grand 209 000 €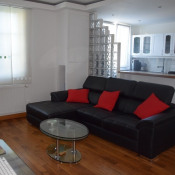 +
Sale apartment Vetraz Monthoux 373 000 €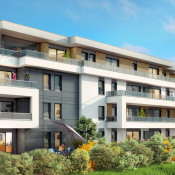 +
Sale apartment Vetraz Monthoux 400 000 €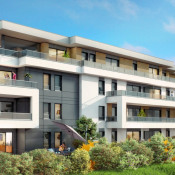 +
* : Agency Fees data unavailable
Legal mentions
Corporate name : A F I Immobilier | Registered head office : 100,route d'Annecy 74160 Collonges sous Salève France | RCS (Trade Register) : ANNECY 512652751 | RCS juridique : * | Legal form : sarl | Numero TVA Intracommunautaire : FR82512652751 |
Carte professionnelle transaction n° 1582/74
Préfecture de délivrance de la carte professionnelle : Haute Savoie | Capital : 3 000 € | Caisse garantie financière : * | Montant garantie financière : *
Carte professionnelle gestion n°
Préfecture de délivrance de la carte professionnelle : * | Capital : * | Caisse garantie financière : * | Montant garantie financière : *
* : non informed